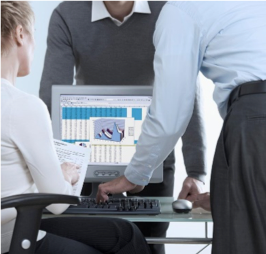 The software your charges are entered into is very important to everyone's success.   MRC has chosen a robust and compliant practice management billing system (PM) for our, ABA Therapy Billing Service, that helps us do our best job collecting your money!  We have had the software updated and enhanced to meet our stringent requirements for managing your account.
Reports and dashboard information helps to make sure we keep on top of your patients' accounts, maximizing your reimbursement.  We offer full transparency and allow any of your authorized staff access to view your patients' accounts, run reports and understand your accounts receivable. MRC works as a partner with your practice.
Industry-leading technology and outstanding customer care highlights the strengths of our PM partner, Azalea Health Innovations.
Some of the reasons we chose Azalea as our partner:
★ Comprehensive revenue intelligence, as well as coding and compliance data checkers
★ Cloud-based, secure, and HIPAA compliant
★ Accommodates small and large group practices by scaling and growing with your need
Intelligent Claims Management System Specialized features improve transparency and cash flow while reducing claim rejections.
On-the-Go
Mobile-friendly and web-based, Azalea works on any computer or device, so you always have information at your fingertips.
Patient Portal
Reducing phone calls to your office, patients can view and pay statements and update demographic and insurance info.
Integrated with TotalABA
Best of all, the Azalea® PM platform is integrated with TotalABA allowing you to chart, track, analyze and so much more!