Our insurance and billing experts will:
Assess your client's insurance coverage

Manage your account's receiveable

Maintain your insurance credentialing

File your claims daily

Enroll you with insurance carriers

Help you stay current on code changes, insurance requirements and fee schedules

 
Scheduling
 Manage your entire practice from any computer anywhere with MRC's customizable scheduling software.  Keep track of your students and therapists in real-time.  Multiple locations and satellite offices are easily identified and integrated with your total practice.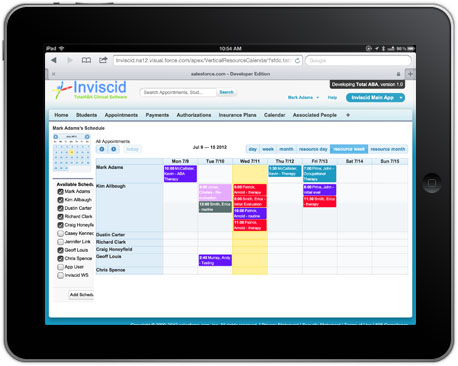 Customizable therapist scheduling means you control every aspect of your calendar and practice workflow.  Multiple calendar views let's you see your appointments by day, week, or month with the ability to view additional staff resources. 

Print with one click for crisp, clean, formatted schedules and calendars.

 

The system can handle the most complex scheduling features for high volume practices while also offering the basic flexibility needed for any practice. 

The software automatically warns you of any scheduling conflicts, virtually eliminating booking errors.

A dynamic and flexible appointment management system lets you create and retrieve appointments from on screen.  The schedule expands to accommodate overbooking.  Time slots are flexible so you are not restricted with your needs. 

Personnel availability is also tracked for vacations, meetings and other obligations.
---
Authorization Tracking
Manage inbound insurance authorizations including the authorized period of time and the number of visits/units authorized.
 

Know when your students are running low on authorized visits.

The tracking system also ensures that available authorizations are utilized prior to expiration.

Co-pay and co-insurance tracking helps maximize collections.

Track the volume of patients from referral sources.
---
Clinical Documentation
Create point-of-care and other documents for your patient's records and frequently used forms have been created as templates. 
Multiple file and image attachments are supported and you can view the attached images on any device.  This is useful for care plans and daily documentation.  Once a chart document(s) have been reviewed and approved the status will change and it can no longer be modified.  Chart documents can be printed and completely customized for your practice.
Templates
Templates for Initial Assessment, Re-assessment and daily notes will speed your therapists charting.  Custom templates can be optionally designed for your specific charting requirements.
Document Management
Our document management system is integrated with our virtual office and allows you to upload almost any file or directly scan into your folder.  These can be indexed by document type and sorted in multiple meta-tags to easily find your document.
---
Lessons and Plans
TotalABA allows for facility administrators to develop customized lesson curriculum. Front end therapists can then record data points quickly and easily throughout their sessions on an iPad, tablet, PC or Mac. The data collected during these sessions can then be analyzed via graphical reports to track the progress of the students.
---
Behavior Tracking
Behavior tracking allows the front end therapist to record the timing and duration of specific behaviors. Since records are digital entries, these behaviors can be graphed, reported on and analyzed over time. (Coming Soon)
---
Parent Portal
The TotalABA Parent Portal allows parents to access relevant and important information regarding their child's progress via a secure internet portal. Graphical statistics, appointment information, therapist communications, benchmarks and more will all be accessible online at any time. (Coming Soon)
---
Time and Attendance
Track and report on student attendance as well as therapist time, expenses and mileage.
---
Billing Software Integration
Transfer insurance billing information to seamlessly to MRC.  No additional data entry is needed.
 

Integrating authorization with scheduling minimizes billing submission errors.

Multiple edits are utilized to achieve a "clean claim" for immediate billing.

Providers are automatically advised of pending billable services for your clients requiring approval.  Once approved by the provided the charges are automatically submitted to MRC for billing.
---
Analytical Reporting
TotalABA will come "off the shelf" with several analytical reports that will allow you to track authorizations, lesson/plan progression, behavior graphs and so much more. Additionally, the reporting module will allow the facility to create reports on virtually anything that has been recorded in the system.
---
MAC, PC, iPad, Mobile and Tablet Support
No longer do you need specific hardware to run your clinical software. The system is web-based so the minimum requirement is an internet connection. The system works on PCs, Macs, iPads, tablets and more!
---